OUT OF THE BOX

RECYCLING DUTCH DESIGN
Lecture May 12, 2017
Shenzhen International Cultural Industries Fair
Drs. RIET VAN DER LINDEN/ AREND HILHORST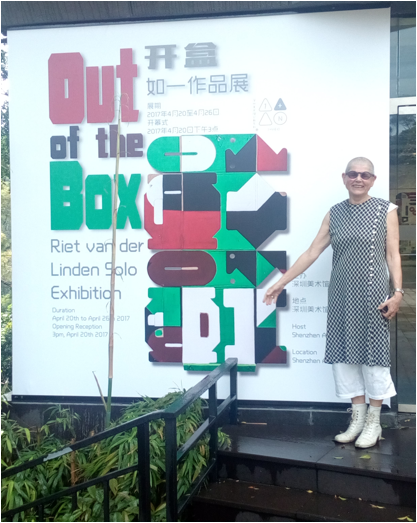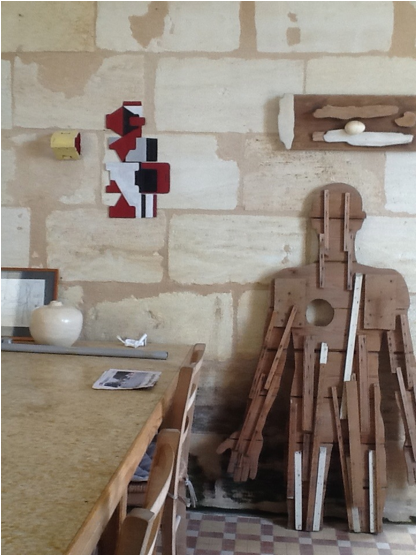 RIET STUDIO IN FRANCE 2016, MAN WITH EGG 2004


As long as I can remember I like to use and collect all kinds of existing materials and objects to create my own personal environment and lifestyle. For me, flea markets and thrift stores have always been goldmines that tickle my creativity. I am more interested in second hand clothes and creating my own exclusive fashion than buying new. I furnish my house with second hand furniture. And, as it happened, I started to make sculptures with materials that I found.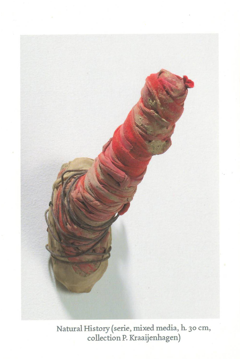 WALL SCULPTURE 30CM 2008
About four years ago I came to live and work with my husband in Shenzhen. This marked the beginning of a new artistic adventure.
In China I started a series of abstract compositions painted with gouache on recycled cardboard boxes.
NONGFU SPRING 2015 27X59CM GOUACHE ON CARDBOARD PACKAGING ON WOOD
Maybe you wonder why use gouache on cardboard, instead of the more durable oil paint on canvas? I will explain.
Not only in China but all over the world, consuming has become a new religion. In my eyes we have become the servants of a capitalist system that we have to keep working by buying. All this mass production leads to an immense mountain of waste that threatens to destroy our planet. Of course we are aware of the dangers. We know we pollute our water, our air, our earth and oceans on which we depend to survive. But we continue destroying our ecosystem in the name of progress.
Instead of producing less, we try to find other solutions to diminish the damage. One of these solutions is called 'recycling'.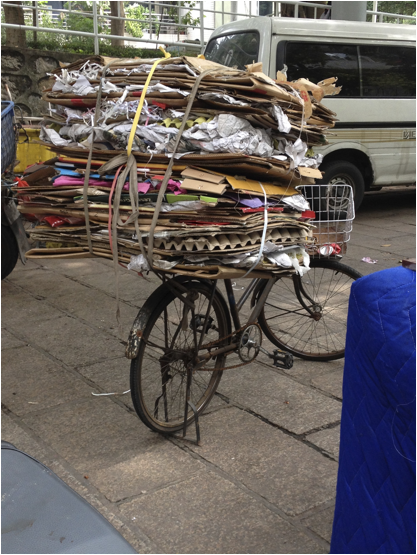 BICYCLE OF A SCAVENGER OCT SHENZHEN 2014
These thoughts about our world today, you could call 'a by-product' of my art. I am not a political artist. I have neither a program nor a ready concept. Everything I created in the last 15 years came as a surprise to me, like fruits from my secret garden. My choice to recycle cardboard for my creations was not a conscious choice or based on ecological concerns.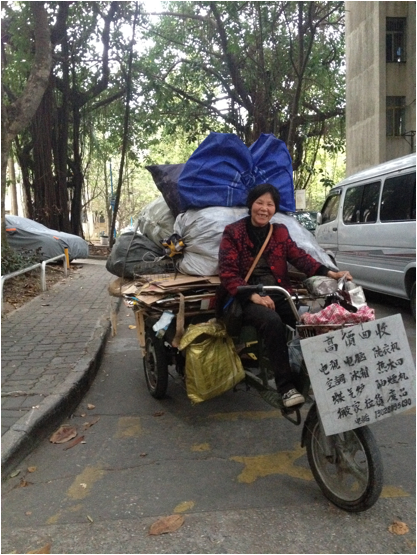 PORTRAIT OF A SCAVENGER OCT SHENZHEN 2014
I just observed the army of poor people who try to make a living by going through our dustbins to collect glass, plastic and cardboard. Now that you know I am a scavenger myself, it will not surprise you that one day I took a cardboard box home and started to paint.
A cardboard box, taken apart and stripped back to its original flat shape, happens to be an inexhaustible mine of artistic possibilities. The shapes and the sizes are different, the quality and color of the cardboard are different, but they are all functional constructions made for the same purpose: to contain, protect and market al kinds of products.
The composition of each of my paintings evolves from a line drawing that follows the structure of the box. In that way a geometrical patron comes into shape and from that point the painting takes off. During the process I might respect the logic of the construction and stay neatly between the lines. In other I jump out of the box and start free improvisation in which coincidences and errors might play a role.
But like I said before; no box is the same and they have a will of their own. The size and the color of the cardboard plays a role in the process of painting, just like the softness or roughness of the surface influences the brushstroke. A small box to contain teabags for example has a different surface than a box that contained a washing machine.
This means that during the process of painting there is a dynamic interplay, between the material and myself. The final outcome is always a surprise.
What I love about my paintings is that they are free, autonomous creations, but based on logic: conforming to a functional order, indivisibly connected to the material that I use. Even the titles, like LITTLE SWAN, VICTORIA'S SECRET or CHINA TELECOM refer to the products or brands the boxes contained. The connection I make here with commerce and mass consumption is obviously meant as a pun, but reminds us also that overconsumption is a sin.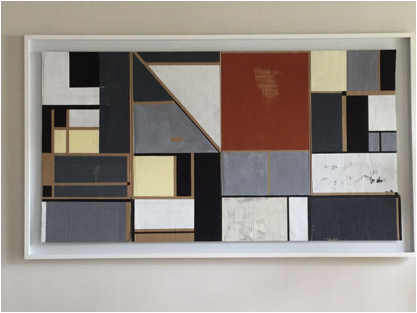 LITTLE SWAN 2016 188x298CM GOUACHE ON CARDBOARD PACKAGING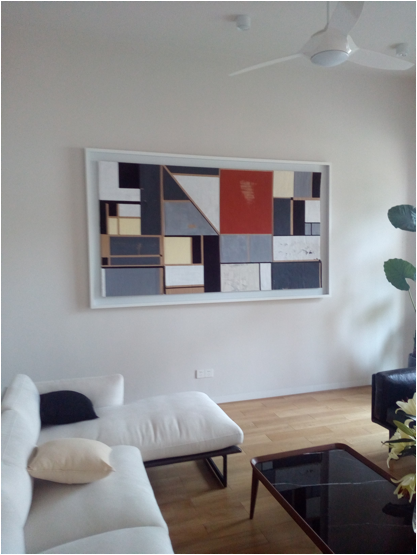 LITTLE SWAN 2016 WU XIANGBING COLLECTION SHENZHEN


Abstract art has a long history but, as far as I know, my work is unique because it comes into existence in such a natural, almost 'organic' way.
But how unique is unique? I realize that I am also a typical product of my generation and cultural background.
After the Second World War in 1945, a group of progressive Dutch artists, convinced that as artists they could make an important contribution to rebuilding spiritual and cultural life, were searching for new directions. Realistic art was contaminated by fascism, but cubism, the geometric abstract style of De Stijl and the work of Kandinsky and Klee from their Bauhaus period, represented the freedom of expression and an international approach they were looking for.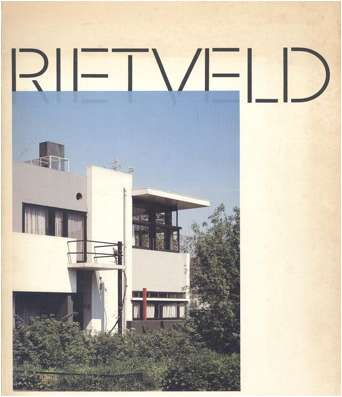 RIETVELD-SCHRÖDER HOUSE THE NETHERLANDS 1923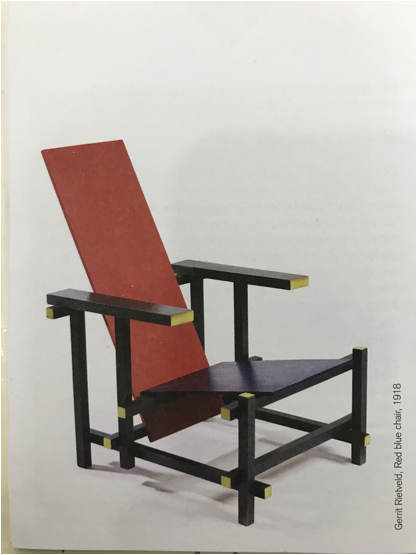 RIETVELD CHAIR 1918
The COBRA movement, founded in 1948 returned to the fountainhead of life to the 'primitive' and the 'child'.
Others returned to the social utopia of artists from the 1910's and 1920's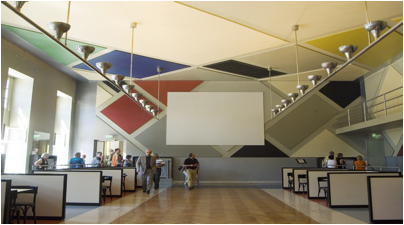 CAFÉ AUBETTE STRASBURG FRANCE 1926
Modernist abstract art started to leave the canvas and became part of everyday life, just as the artists from De Stijl, the Bauhaus and Russian constructivists had imagined.
Art also became more commercial. Part of a growing economy and expanding middle-class prosperity. The 'cultural industry' was born.
The history of the Dutch painter Piet Mondrian is an illustrative example.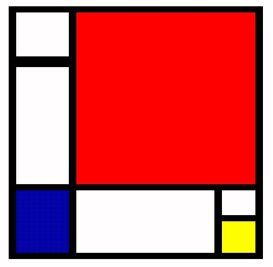 PIET MONDRIAN 1930
Before his death in 1944 he led the life of an impoverished artist, in Paris, London and later in New York. He was barely able to survive, though he was known and respected by other artists. In the 1960ties however Mondrian posthumously rose to fame and fortune, culminating in 1998 when Mondrian's 'Victory Boogy Woogie' was bought by the Dutch government for a spectacular 80 million guilders.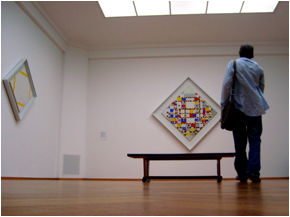 VICTORY BOOGIE WOOGIE 1944 THE HAGUE CITY MUSEUM
Mondrian's work always resonated in and relayed between elite and popular culture. These two cultures converged in the mid-1960s with the appropriation of Mondrian's style by such American pop artists as Tom Wesselmann and Roy Lichtenstein on the one hand.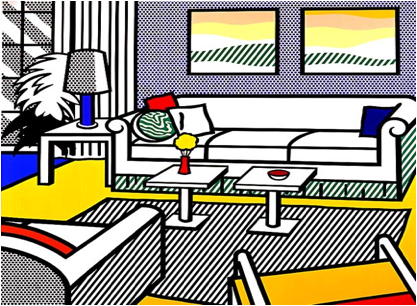 ROY LICHTENSTEIN INTERIOR 1991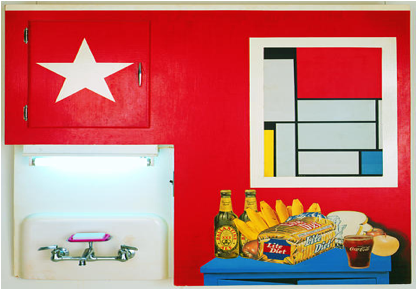 TOM WESSELMANN STILL LIFE #20 1962
And by French couturier Yves Saint Laurent on the other.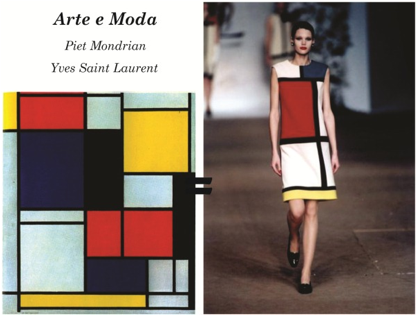 YVES SAINT LAURENT: MONDRIAN DRESS 1960
They became iconic examples of what might be described as the Mondrian brand. The Mondrian look of Yves Saint Laurent was an early landmark in the development of public appreciation for the artist. Numberless cheap copies of the famous Mondrian inspired dress appeared in New York shop windows.
It is an example of how modernist art entered the fields of fashion, textile and graphic design, typography, photography, architecture and interior design: they all breathed this 'modernist' approach.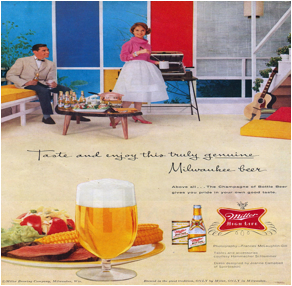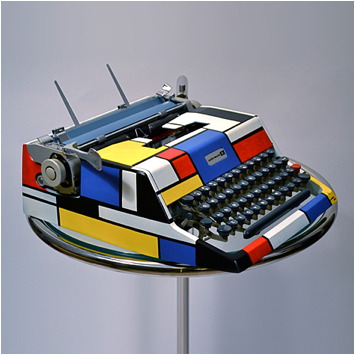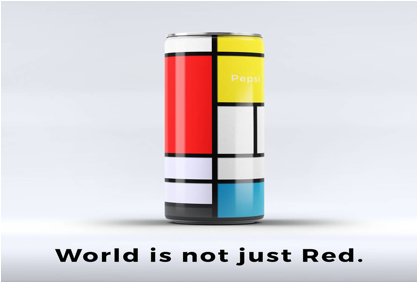 MONDRIAN ADVERTISING & DESIGN: MILLER BEER, OLIVETTI TYPEWRITER, PEPSI COLA
As a child I became strongly aware of this new, modern life style that became visible. In shop windows art posters appeared of modern classics like Monet, Matisse, Picasso, Mondrian and Van Gogh. Even more fascinating was the Good Living Foundation founded in 1948, the year I was born.
Good Living was a Dutch foundation, set up to promote well-designed domestic goods. Good living had an idealistic agenda of bringing together manufacturers, retailers, and consumers. Just as ICIF is doing today.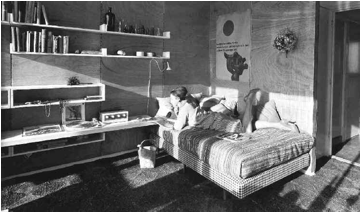 GOOD LIVING 1950
To make their goals more accessible 'Good Living' published a periodical with the same name, and presented awards for selected modern products.

GOOD LIVING FURNITURE 1950'S
Good Living also promoted its ideas through the furnishing and equipping of show houses. On my way to school I always passed a little shop with modern furniture, curtains and ceramics promoted by 'Good Living', which made a deep impression on me: simple and affordable furniture, curtains and carpets in beautiful patterns and bright colors. Natural, light, and practical - the less-is-more of modernist art - became part of everyday life. But during the 1980's all this optimism was tempered by critical intellectual reflections. Modernism and its claim to universal meaning and the belief in a socially engineered society made place for Post-Modernism.
At the same time the power balance in this globalized world was changing from West to East; newly open economies in Asia developed extremely rapidly bringing prosperity to millions of people. But already in 1972 the so-called Club of Rome sent a serious warning into the world: that there are 'Limits to Growth'. We have to deal with the unsustainable consequences of our economic system: global warming, a shortage of safe drinking water, pollution and our dependence on fossil energy. Like in my own art works, many of the above mentioned problems and thoughts are - directly or indirectly - part of contemporary Dutch design.
Dutch design is world famous, innovative and often surprisingly unique. Relevant for our story today is a company like Droog Design, founded in 1993 on the Milan Furniture Fair by the artist Gijs Bakker and Art historian Renny Ramakers. The duo presented a selection of sober design made of industrial materials and found objects.
A very special element of this now famous design company is 'Saved by Droog': the company buys stock and transforms it into something completely new. Maarten Baas, a young designer now connected to Droog Design came to fame overnight by making a rebellious statement: he graduated at the Art academy some ten years ago by transforming icons of Modern design by burning them badly.
Joep van Lieshout is another intriguing Dutch artist who deals with ecological issues and survival strategies. Van Lieshout established Atelier Van Lieshout in 1995: a celebrated art, design and architecture studio. He combines idealism and grit to produce sculptures, installations, furniture, architectural spaces, and plans for the future of humanity. He promotes autonomy, self-reliance and the circular economy. Very interesting are his designs and production of fully self-supporting housing projects – a kind of survival architecture - where useless waste does not exist.
Literally everything, including human waste, is re-used in an ongoing cycle of production, consumption, and reproduction. Van Lieshout, who is not afraid of going to extremes – maybe as a reaction to the over-efficient and inhuman way modern society deals with human beings - even proposed a project to recycle human corpses instead of burying them.
Piet Hein Eek, another world famous Dutch designer, also embodies the concept of transformation and reinvention.
Eek came to prominence with his line of scrap wood wallpaper that has since been imitated all over the world, including in China.
We would like to conclude by introducing Arthouse Concepts, founded in 1995 by our Dutch friends Bep Toscani and Hans Cornel. Hans Cornel is a first class scavenger who creates sculptures and beautiful light objects out of found objects.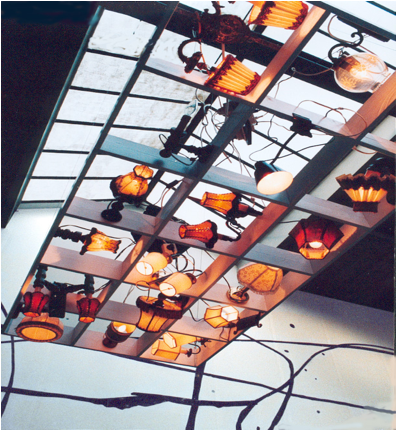 LIGHT OBJECT HANS CORNEL 2014
Bep Toscani creates paintings of monumental size, a mix of collages and acryl paint next to wonderful installations of textile and perspex.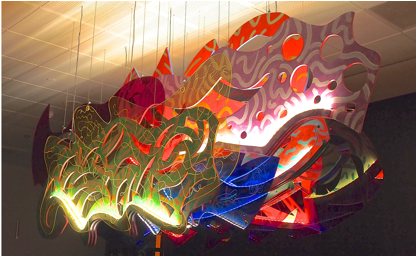 SCULPTURE TOSCANI & CORNEL 2013
Their home and studio, located in a former school, is an absolute delight to the eye; playful, inventive and colorful. They are both masters in designing an interior in which they combine transformed old furniture and kitsch, with their own art works. Money being always a problem, they find a solution for everything. If they cannot buy a carpet they paint one themselves, directly on the floor.
They are also excellent cooks and apart from wonderful dinners, they create table installations with hand painted tablecloth, combined with unique glasswork and hand painted ceramic plates. Around the Arthouse building they keep a beautiful garden and a few times a year they organize jazz concerts.
Toscani and Cornel are the kind of people the world needs and who do not care about modernism or postmodernism. They believe in humanity, and in art as the great communicator. Just as it should be. . .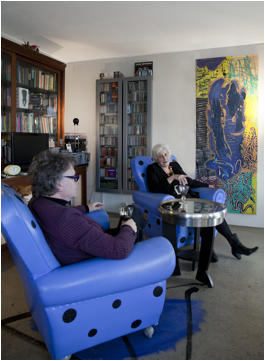 Toscani & Cornel in recycled chairs, 2017


Thank you